The day before she died, Ashli Babbitt wrote on social media about the upcoming gathering of Trump supporters in the US capital.
"Nothing will stop us," she wrote. "They can try and try and try but the storm is here and it is descending upon DC in less than 24 hours."
Ms Babbitt, 35, was among the mob which breached the US Capitol on Wednesday. She has been identified by US Capitol Police as one of five people who died amid the chaos.
A veteran of the US Air Force, Babbitt served two tours in Afghanistan and Iraq before later deployments with the National Guard to Kuwait and Qatar, her ex-husband Timothy McEntee told US media.
A native of San Diego, California, Ms Babbitt had recently remarried and worked at a pool service company with her husband, Aaron Babbitt.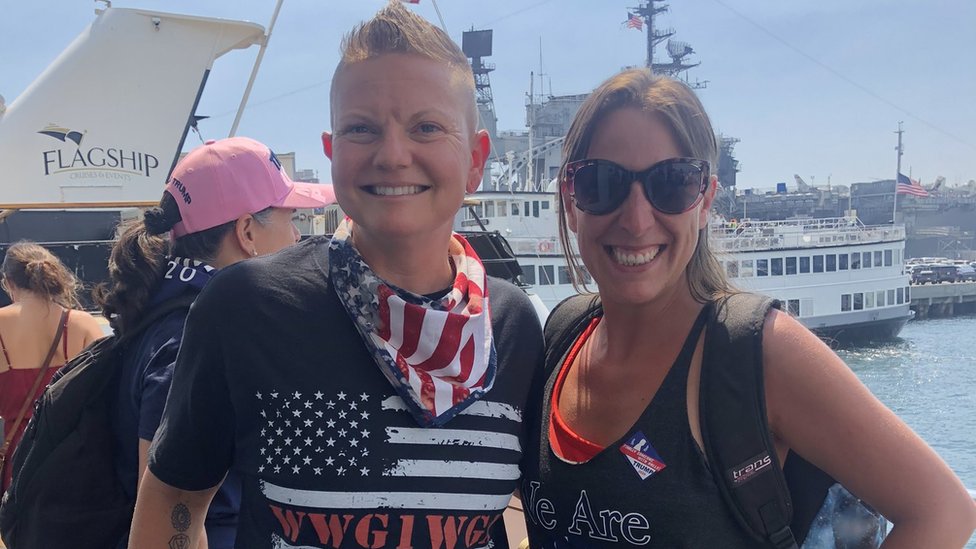 On social media, Ms Babbitt described herself as a libertarian and a patriot. She posted frequently about President Donald Trump, expressing ardent support for the president and echoing his unproven claims of wide-scale voter fraud.
"She had a personality that you either loved or hated," Mr McEntee told NPR. "She wasn't apologetic about it… she was proud of it, just like she was proud of her country and proud to be an American."
In September, Ms Babbitt posted a photo from a boat parade for Mr Trump in San Diego wearing a shirt that said "We are Q" – referring to QAnon – the far-right, a completely unfounded conspiracy theory that says Mr Trump is battling a clandestine war against Satan-worshipping paedophiles.
Days before this week's demonstrations, Ms Babbitt wrote on Twitter that she would be in Washington for Mr Trump's so-called Stop the Steal rally.
"I will be in DC on the 6th!" she wrote. "God bless America and WWG1WGA" – using an abbreviation common among QAnon supporters.
Her mother-in-law, Robin Babbitt, told a local Fox station that her son did not join Ms Babbitt at the rally.
"I really don't know why she decided to do this," she said.
In video posted online, a woman believed to be Ms Babbitt is seen with a Make America Great Again flag draped around her shoulders amid a crowd of rioters inside the Capitol building, attempting to get through a set of locked doors. A member of Capitol Police is seen on tape holding a gun toward the group.
The woman is then seen climbing onto a ledge next to the door. Almost immediately, a loud bang is heard and she is filmed falling to the ground.
In a statement, Capitol Police said that a United States Capitol Police employee fired their service weapon, striking an adult female "as protesters were forcing their way toward the House Chamber where Members of Congress were sheltering in place".
Ms Babbitt was admitted to hospital with a gunshot wound and died later that evening, police said. The officer who shot Ms Babbitt has been placed on administrative leave but has not been identified.
Ms Babbitt's mother-in-law told US media that she was devastated by the news. "I'm numb," she told the New York Post. "Nobody from DC notified my son and we found out on TV."
Four other people died during Wednesday's riots.
US Capitol Police officer Brian D Sicknick died late on Thursday after sustaining injuries while "physically engaging with protesters", a statement from Capitol Police said.
He later collapsed in his division office and was taken to hospital.
Sicknick worked for the Capitol Police for more than 10 years and had most recently worked in its first responder unit, CBS News reports.
Police said three others who travelled to Washington for the demonstration are believed to have died in separate "medical emergencies" on the grounds of the Capitol. No further details have yet been disclosed.
Capitol police have identified them as Benjamin Philips, 50, of Pennsylvania; Kevin Greeson, 55, of Alabama; and Rosanne Boyland, 34, of Georgia.
"Any loss of life in the District is tragic and our thoughts are with anyone impacted by their loss," said metro police chief Robert Contee on Thursday.